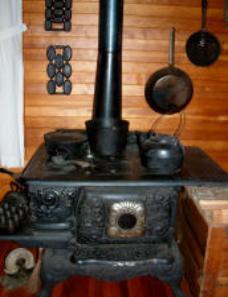 The Newell Pioneer Village museums have collected many assorted pieces of pioneer furniture and household items over the years, mostly from pioneer families in the area. Some were actually owned and used here by Robert Newell. 
Pioneer life was arduous and the home was a respite after a long journey or a hard day of work. Nothing came easy in Oregon during the 1800's and the home needed to run like a well oiled machine to ensure the survival of the homestead and family. Bringing a number of items from home across the Oregon Trail, created a certain nostalgia for the owners and many of these treasures were passed down to future generations. The Newell House first floor is decorated as  you would have found it in the 1860's when Rebecca Newell was raising their young children. A wide assortment of authentic every-day working tools used by pioneer women are found in the kitchen. You will find an exceptional wood burning cook stove. It was manufactured by Bridge Beach Co. of St. Louis, MO, prior to 1865 and has ornately curved legs and a drop-leaf on the right hand side. Donated by Mrs. Albert H. Powers, the stove was originally used on the Power's ranch at Coos Bay, Oregon.
The fine china collection includes some beautiful antique flow-blue pieces, among many other treasures. You will find many items within the Newell Home of interest, among them a Chickering square grand piano.
The Village includes six fully furnished rooms in the Newell House, the Pioneer Mothers Memorial Cabin with three rooms and a loft filled with artifacts that traveled across the Oregon Trail,  as well as a completed school room and teacher's quarters in the Butteville School.