The Newell House Museum Complex has several unique collections of Oregon history artifacts. One of the most memorable for Oregon history buffs and casual visitors alike is the First Ladies of Oregon Gown Collection with contributions from most of Oregon's first ladies. The earliest gown is from 1849. Each is on display with a photograph of its wearer and a brief description.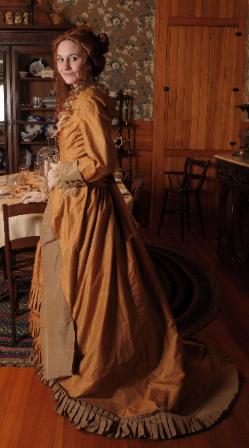 The First Ladies of Oregon Gown Collection was on display at the Newell House Museum when it opened in 1959. In 2007, the museum began a project to restore and preserve these historic gowns. They were aided by their companion organization, Children of the American Revolution (CAR).  The effort of these young people raised over $1400 for the restoration of the gowns. A grant from the Helen E Austin Pioneer Fund of the Oregon Community Foundation and in-kind donations made it possible to save the history of these gowns for Oregonians. This collection, originating in 1957 with the first dress belonging to Polly Hart Lane, grew to 17 dresses before placement at the Newell House made it possible to save the history of these gowns for Oregonians. The history of these gowns and of their owners helps to present a picture of Oregon life from provisional government and 1859 statehood, to Oregon's one hundred and fiftieth birthday on February 14, 2009.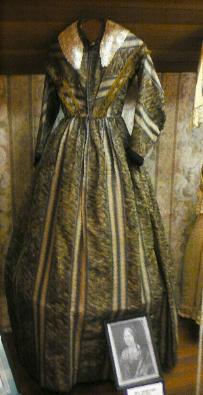 Whether escaping the massacre of her family like Polly Hart Lane, or advocating for the civil liberties of all people, in the manner of Mary Oberst, many of Oregon's first ladies stand out for their rugged individualism. They deserve to be remembered for their own legacies, not just as the women behind the men. A look at their personal histories helps to gain insight into the time in which they lived. Their dresses reflect the changing face of fashion.
The early first ladies came overland to Oregon by wagon train, by ship round Cape Horn, or on the first of the railroad West. They endured many hardships to bring civilization, education, and culture to this new territory. Of some, little is recorded, but through a knowledge of the times and their husband's careers, we can imagine their lives and the ways they influenced our state.
Read more about these women in First Ladies of Oregon. Available for sale at The Newell House Museum.