Newell Pioneer Village staff and volunteers offer an outstanding school program tailored to students of any grade level, but especially suited for second through fifth grades. Costumed interpreters use authentic artifacts and hands-on activities in an interactive program and setting that is similar to what pioneer children might have experienced. The Newell House-PMMC Museum Complex offers an excellent field trip opportunity for classrooms or home-schoolers that brings history alive and sparks students' curiosity to discover more. The estimated two and one half hour program is presented in three parts and rotates through different locations at the Newell Pioneer Village. Any of the three sections is also offered as a stand-alone program.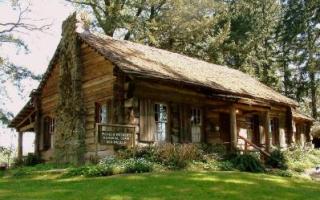 Part One
Pioneer Mothers Memorial Cabin
Experience life as it would have been for the early pioneers in a log cabin at the Pioneer Mothers Memorial Cabin. Learn about the earliest settlers, the Hudson's Bay Company, Wagons Westward and Pioneer Life. Students will work with instructors through many hands on activities: kneading sour dough bread, carding wool and washing clothes as the pioneers would have done.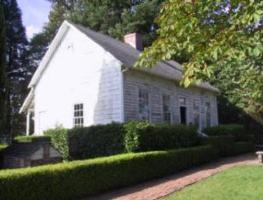 Part Two
Butteville Academy: A Country School
Become a pupil in an authentic one room schoolhouse and discover what it would have been like to attend school in the 1860's. Learn about the Provisional Government and Oregon Statehood from the schoolmarm as well as lessons in morals and manners. Then experience the making of a journal using tools of the day, such as a quill pen. Take time for fun and learn about games and toys from the mid 19th century and make one to take home with you.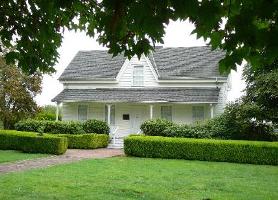 Part Three
Newell House
Discover life as lived by one of Oregon's earliest legislators, Robert Newell. Learn about the beginnings of the Oregon Territory, Statehood and his life as a man of many firsts as told by interpreters in period dress. Learn about a catastrophic area wide flood that would change the lives of the residents of Champoeg forever. Through a scavenger hunt, learn about artifacts of the period and how they were used in every day life. Then learn about the making of a beeswax candle, make one and take it home with you as a remembrance of your experience at Newell House.
Topics that may be covered include:
Native Americans
Earliest Settlers
Hudson 's Bay Company
Wagons Westward
Pioneer Life Here
Provisional Government
Donation Land Claim Law
Border Decided
Oregon Territory
Oregon A State
Catastrophic Area Wide Floods
If you are interested in having your class or home-school group attend our one room-school program, please complete our registration form and call Ellen Crauthers for scheduling and other information for your next field trip! 503-678-5537